Patient Education: Contact Lenses
What are Contact Lenses?
A contact lens or contact is a thin, curved lens inserted directly onto the tear film, which covers the surface of your eye. Although contact lenses are considered to be a medical device, patients wear them for a variety of reasons, including: visual correction, therapeutic or cosmetic reasons. Contacts are either hard, soft or a hybrid.
Aside from the obvious improved visual activities, or cosmetic enhancement, here are some other benefits to wearing contact lenses:
Certain eye conditions, such as keratoconus, usually see increased visual correction with contacts, as compared to spectacles.
They generally provide improved peripheral vision, as compared to glasses.
They don't "fog up" or collect moisture, as a pair of glasses would over a hot stove, or on a rainy day.
Glasses can fall off or possibly become damaged during exercise or active lifestyles, and the bridge of glasses can slide with perspiration, moving your visual center. So, contacts make exercising, sports or recreational activities easier, too.
Speaking of active lifestyles, with contacts, you can wear goggles, non-Rx sunglasses or other headgear with ease!
For more information on contacts, see our page Vision Care and Products: Contacts.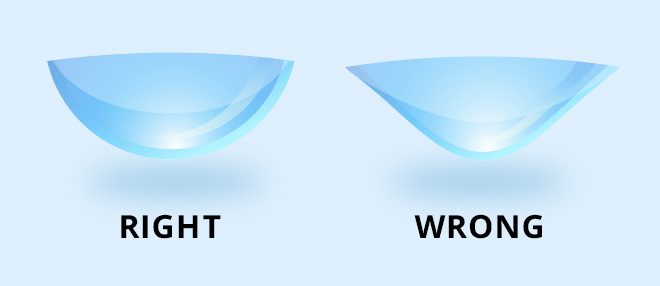 We love contacts and want you to love them too, but don't forget they are a medical device.
Do's –
Always wash your hands before handling your lenses. Be sure not to use soap with lotion, as that will leave a
hazy film.
Before insertion, check each lens for damage, and make sure it is not inside-out.
Clean each lens daily by rubbing the lens for 10 seconds on each side and then rinsing the lens before storing.
Use only the solution recommended by the doctor.
Change the solution daily.
Keep your storage case clean and replace it every 3 months.
Don'ts –
Do not sleep in your lenses unless approved by the doctor.
Do not swim or use the hot tub in your lenses. If you plan to swim in your lenses, the doctor will advise you on
the healthiest approach.
Never use tap water on your lenses.
Do not use medicated drops with your contacts, unless approved by your eye doctor.
Comfort Tip: To eliminate lint trapped under the lens, gently side the lens off the cornea and then back into place. This will flush tears beneath the lens, which often alleviates the irritation.
Remember to use UV filtering sunglasses to protect the health of your eyes. Polarized sunglasses are recommended for optimal glare reducing performance.
Remove your lenses and call our office at (509) 448-7300 if you experience any pain, excessive redness, mucus discharge, or reduced vision!
*The following informative links are just a few of the many products we offer at Eyes For Life, Spokane.
Contact Lens Brands –
DAILIES TOTAL1®
About
Insertion
Removal
DAILIES® AquaComfort Plus®
About
AIR OPTIX® AQUA Multifocal
About
How They Work
Contact Lens Solutions –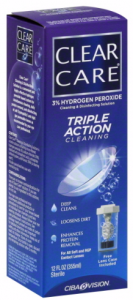 CLEAR CARE® Cleaning & Disinfecting Solution
What is Clear Care?
How Does it Work?
Cleaning Your Contacts
Safety Tips to Remember
Contact us for more information on a particular brand or product, or to schedule your contact lens evaluation today!