W

e're BIG on Giving Back!
Dr. Heavin Maier and Eyes For Life are committed to making a difference and giving back, both in the local community and worldwide. The following are just some of the recipients of the generosity of Eyes For Life in Spokane, WA.
Eyes For Life knows the importance and societal impact of giving back. That is why we give both locally and globally each and every year!
Every year we donate 
10% of our profits to charity organizations. 
Every month $300 goes to a local charity, right here in beautiful Spokane, WA. As our patient, YOU can help choose where this money goes. We ask each of our patients to tell us their favorite charity, and we select a new most requested charity each month. 
The remaining donations are given on an annual basis to one or two exceptional organizations who are making a huge difference!
2017 Annual Charity Organizations: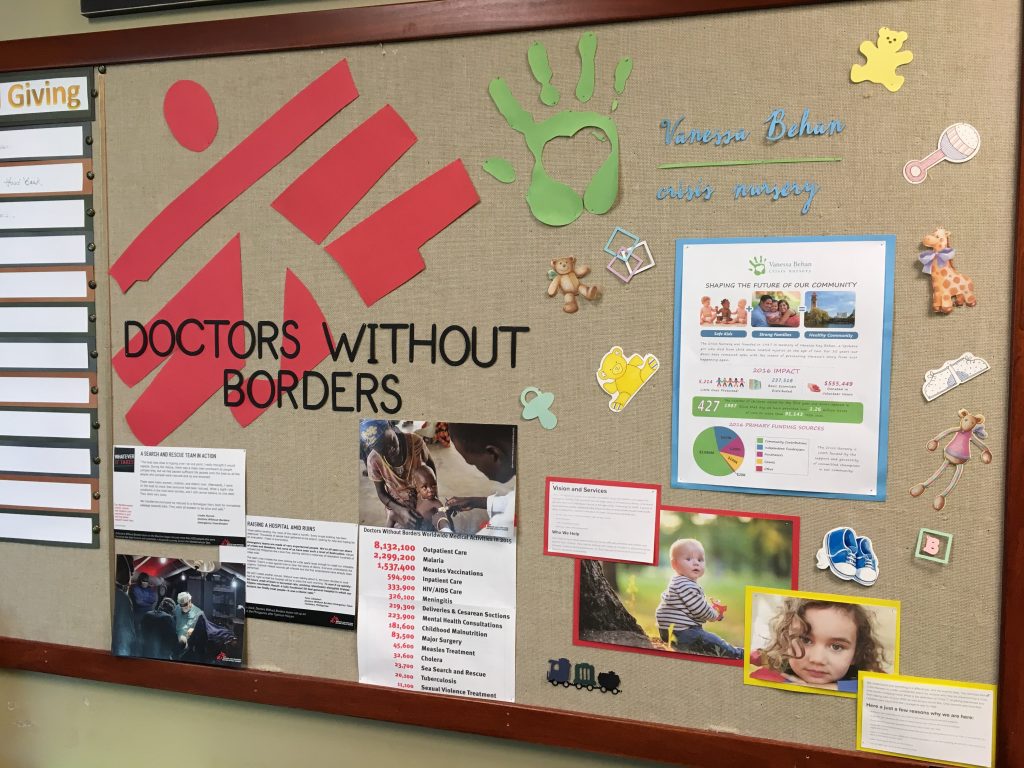 You can learn more by clicking on the links below.
1. Vanessa Behan Crisis Nursery
The Crisis Nursery's vision is to provide immediate refuge for children and support to strengthen families. This evolved from the tragic story of Vanessa Kay Behan, a Spokane girl who died from child abuse injuries at the age of two. Following her death, a group of local business people established the Crisis Nursery so that parents would have a safe place to bring their children in the face of crises. Our primary services are:

24-hour child care for infants and children under the age of seven
Parent education
Crisis counseling for parents
Referrals to other community agencies
2017 Monthly Charity Organizations:



"Sally's House is an emergency foster care receiving facility for children 2 to 12 years of age. Children are brought to Sally's House by local law enforcement or Child Protective Services.
These children have been removed from their home due to severe abuse, neglect, criminal activity or abandonment." – Sally's House  – About Us
"Fighting hunger, feeding hope: Second Harvest brings community resources together to feed people in need through empowerment, education and partnerships. Second Harvest has been leading the hunger-relief network in the region since 1971. Second Harvest distributes over 2 million pounds of free food each month to help people in need in 26 counties in Eastern Washington and North Idaho. Partnerships with more than 250 neighborhood food banks and meal centers make it possible to feed 55,000 people each week." – 2nd Harvest – Learn More
"The objective of Meals on Wheels Spokane is to provide the proper nutrition to those individuals who cannot meet the need on their own. This service allows individuals to remain in their own homes and reduce premature out of home placement. It also allows a patient to leave a hospital, nursing care or rehab earlier, thereby encouraging the convalescing process in the familiar surroundings of the persons own home." – Meals on Wheels – About Us
"Heath's Haven Rescue & Sanctuary is a special needs rescue for dogs with neurological issues, spinal injuries, paralysis, and mobility issues. We rescue dogs from euthanasia in shelters, have them evaluated by a specialists, that provide necessary diagnostics (MRI, Spinal Taps, X-Rays, etc.), start them on a rehabilitation schedule of hydrotherapy, acupuncture, and physical therapy, then provide them with wheelchairs. Based on the severity of the dogs impairment, we then adopt them out." – Heath's Haven Rescue – Home
"World Relief Spokane currently provides refugee resettlement assistance, employment services, micro-enterprise loans, immigration services and works to raise awareness and serve victims of human trafficking. Our team here at World Relief Spokane resettles up to 600 refugees each year – families running for their lives, escaping violence and persecution. Spokane is their safe haven; these refugees bring a richness of experience, education, culture, and collaboration." – World Relief Spokane – Home
June – The Humane Society
The Human Society is "a private, non-profit serving the public by providing care, shelter, and placement into loving homes for lost, neglected, and unwanted animals in the greater Spokane area through pet adoptions. The Spokane Humane Society was founded by a group of concerned citizens in 1897. Back then, we looked after the draft horses used to carry loads up Spokane's South Hill. Today, we take care of more than 5,000 animals each year, mostly dogs and cats in need of compassionate care." – The Humane Society – About
July – Northwest Autism Center
"Formed in 2003, Northwest Autism Center exists to build, facilitate, and coordinate comprehensive services for those with autism spectrum disorders through the lifespan, using community based approaches. Each individual with autism spectrum disorders living in the Inland Northwest will have access to early diagnosis and treatment; best practices in public education and health-care; and, the social supports necessary for optimal personal growth and the fullest level of participation within family and community." – Northwest Autism Center – Mission and Vision
August – Union Gospel Mission
"We've got 65 years on the job. What began as a downtown soup kitchen in 1951 has expanded into a comprehensive ministry with four shelters, three recovery programs, two thrift stores, an automotive enterprise and a summer camp for underprivileged youth…The gospel is at the center of our name and everything we do. We can offer meals and medical care, but we cannot change a heart. Only God can do that."

Purpose Statement: Partnering with the Inland Northwest to reach the poor with the love and power of the gospel so they may become God-dependent, contributing members of society. – Union Gospel Mission – Who We Are
September – Footprints of Fight
"Footprints of Fight offers services free of charge to families in Washington that are starting or in the midst of treatment for pediatric cancer. Our goal is to provide services such as meal trains, house cleaning, gas cards, and a variety of other items that will aid in alleviating stress of the family so that the main focus can be on increasing the health of the child with pediatric cancer. Our goal is to provide these services for the duration of the child's treatment and in turn provide hope, strength, and comfort to the family." – Footprints of Fight – What We Do
October – TBD
November – TBD
December – TBD
That's not all! For more Eyes For Life contributions, click here.
DID YOU KNOW?
Eyes For Life is Spokane's local eyeglasses donation site.
We recycle used or unwanted eyeglasses through the Lions Club International – Recycle For Sight program.
"LERC volunteers clean, sort by prescription strength and package the glasses. Recycled glasses are distributed to people in need in low and middle income communities where they will have the greatest impact. Imagine if you could help a child read. An adult succeed in his job. A senior maintain her independence."  – Learn more at www.lionsclubs.org.

Eyes For Life is recognized as an eye clinic making a difference in our local community.
In addition to our charity contributions, Eyes For Life sponsors the following annual events:
8 Lakes Leg Aches Bike Ride – Bike ride along 8 beautiful lakes and help raise funds for victims of violent trauma and sexual assault.
Ham on Regal – Musical/Comedy show at Ferris High School. Proceeds help Ferris High allocate funds to a variety of student needs.
Spokane Folklore Society Fall Folk Festival – A festival designed to support our regional folk musicians.
8 Lakes Leg Aches Bike Ride
"The 8 Lakes Leg Aches bike ride is considered one of the best organized bike rides in Eastern Washington with riders enjoying the beautiful scenery of West Spokane, Cheney and Medical Lake. Choose from 30, 45 or 75 mile routes – the 75 mile route passes Willow, Granite, Silver, Medical, Clear, Chapman, Kepple and Fish Lakes, for the full 8 Lakes ride experience. Each route includes snack stops and SAG support.

"Proceeds benefit Lutheran Community Services Northwest programs, including the Sexual Assault & Family Trauma (SAFeT) Response Center.  Revenue from the bike ride help us continue delivering the highest quality of service to our community, while not only providing on-going support, but also creating new opportunities of hope to those in our community who turn to our agency in their time of need. Annually, we serve over 3300 children, individuals and families to provide healing, hope and justice to victims who experience violent trauma or sexual assault." – To learn more, visit www.lcsnw.org/8lakesride.
Ham on Regal
"Ham on Regal is an original musical/comedy show written and performed by Ferris High School parents and school staff…This unique fund raiser enables the Ferris Parent Teacher Group to allocate proceeds from the show to various activities, including academics, athletics, administrative and supply needs to classrooms, teachers and students." – To learn more, visit www.hamonregal.org.
Spokane Folklore Society Fall Folk Festival
"The Spokane Folklore Society Fall Folk Festival is free to the public and features 8 stages of traditional and ethnic dance, music, workshops, special entertainment, crafts for children, and jamming. Also featured are sales of traditional crafts, and meals…The festival is designed to support our regional folk musicians. Many local folk artists are hidden gems well worth discovering. The festival features about 100 performing groups representing Celtic, bluegrass, blues, African, Asian, Middle Eastern traditions, and more. About 5,000 people attend the festival. The festival is supported through donations…" – To learn more, visit www.spokanefolkfestival.org.
When you make Eyes For Life your Spokane eyecare office, YOU are making a difference, too!
Contact us, or click here to schedule your next eye exam.